The Bipartisan Campus Accountability and Safety Act (CASA) protects students and streamlines the response to and reporting of sexual assault. EROC supports this bill because it is survivor-centric and reflects the realities that survivors face everyday. Some of the important elements of the bill include provisions that:
establish new campus resources and support services for student survivors
ensure minimum training standards for on-campus personnel
create historic new transparency requirements
require a uniform discipline process and coordination with law enforcement
establish enforceable Title IX penalties and stiffer penalties for Clery Act violations
Everyone has a part in passing this transformative piece of legislation. Stand with us. Learn more about CASA, how to ask your elected officials to support it, and spread the word, below.
Your voice matters. Call on your representatives to take action. Contacting your representative is easy and takes about 5 minutes.
1. Get informed: learn about CASA
2. Contact your representatives by phone, email, or direct mail to voice your support for CASA.
3. Spread the word about CASA. Use the hashtag #PassCASAct to spread the word.
In 2016, The Bureau of Justice Statistics released the Campus Climate Validation Study confirming that approximately 1 in 4 college women and 1 in 16 college men are sexually assaulted before they graduate. Yet, 41% of colleges and universities recently surveyed have not conducted a single investigation into an allegation of sexual violence on their campus in the past five years.
Every student has the right to an education free from violence. If a student experiences violence, that student deserves quality support, and a transparent and fair investigation process.
The bipartisan Campus Safety and Accountability Act (CASA) ensures that allegations of campus sexual assault cases are handled with professionalism and fairness. CASA's provisions are also designed to protect and empower students.
Current federal law doesn't substantially prohibit colleges and universities from under-reporting incidences of sexual assault. CASA flips the incentives for colleges and universities and makes reporting sexual assault part of the solution, not the problem.
Key Talking Points:
CASA ensures survivors have access to resources and services through confidential advisors. These advisors can connect survivors with the accommodations they need while maintaining their autonomy -- allowing them to report when they are ready.
CASA facilitates reporting by establishing amnesty for students who report sexual violence but report a non-violent student conduct violation like underage drinking.
CASA ensures that relevant on-campus personnel are adequately trained to respond to incidences of sexual violence and understand their effects on survivors.
CASA requires a uniform discipline process and coordination with law enforcement to ensure cases are handled in a timely, fair manner.
CASA holds institutions accountable for protecting students and supporting survivors through establishing enforceable Title IX penalties and stiffer penalties for Clery Act violations.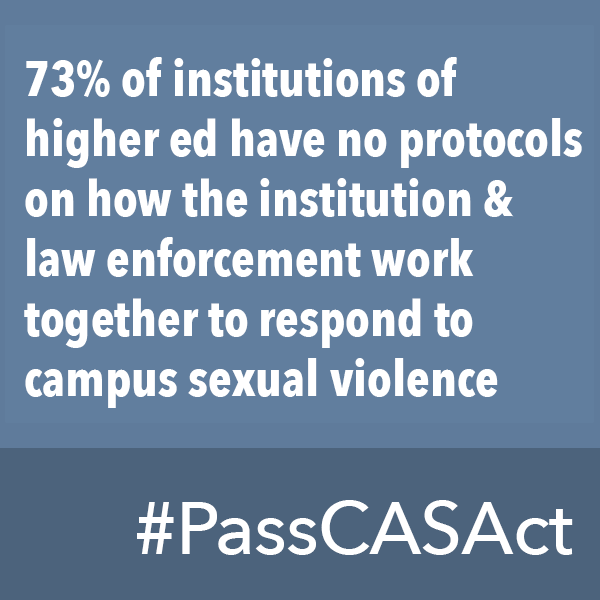 Your voice matters. Contact your representative and voice your support. Connecting with your representative is simple and can be done in several ways:
CASA will be reviewed by senators in the Health, Education, Labor & Pensions (HELP) Committee. The support of these senators is key in the passage of the full bill. HELP Committee Members:
Lamar Alexander, Chair (R-TN)
Tammy Baldwin (D-WI)
Michael F. Bennet (D-CO)
Richard Burr (R-NC)
Robert P. Casey, Jr. (D-PA)
Bill Cassidy, M.D. (R-LA)
Susan Collins (R-ME)
Michael B. Enzi (R-WY)
Al Franken (D-MN)
Orrin Hatch (R-UT)
Johnny Isakson (R-GA)

Mark Kirk (R-IL)
Barbara Mikulski (D-MD)
Lisa Murkowski (D-AK)
Patty Murray (D-WA)
Christopher S. Murphy (D-CT)
Rand Paul (R-KY)
Pat Roberts (R-KS)
Bernie Sanders (D-VT)
Tim Scott (R-SC)
Elizabeth Warren (D-MA)
Sheldon Whitehouse (D-RI)

While we need the support of the senate as a whole, the members of this committee are particularly important to contact in the bill's current stage. If you live in the states of any of the senators above, please consider contacting them to stress the importance of this legislation. Please reach out to us at info@endrapeoncampus.org if you have any questions.

Please note that some of the senators above have already signed on as co-sponsors for CASA. We thank them for their leadership.
Sign the Petition:
1. Click here to sign the petition.
Phone:
1. Using this link, find your representatives.
2. Make a call during normal business hours or leave a message
3. Express your support for CASA using these talking points:
1 in 4 women and 1:16 men will be sexually assaulted before they graduate
Despite the prevalence of campus sexual assault - only 41 percent of schools have investigated an allegation of assault in the last five years
CASA improves school's support systems for survivors of assault through ensuring the presence of confidential advisors, support services, and training for relevant personnel
CASA ensures schools are transparent and fair in how they handle allegations of assault
CASA incentivizes schools to take action on this issue by implementing meaningful sanctions for violating Title IX or the Clery Act
Email:
1. Using this link, find your representatives
2. Click the "Send Email" button
3. Copy & Paste your representative's' email addresses into the 'To:" field
4. Add an optional personal message expressing why you support CASA
Letter:
1. Using this link, find your representative's mailing address
2. Print this template
3. Add an optional note in the space provided
Social Media:
1. Tweet at your representative using their handle
2. Consider the sample language below or craft your own tweet
3. Include the hashtag #PassCASAct
| | |
| --- | --- |
| #CASAct requires improved support services for survivors to help them through the reporting process #passCASAct bit.ly/PassCASAct | #CASAct ensures relevant personnel receive training &have firm understanding of these crimes #passCASAct bit.ly/PassCASAct |
| #CASAct requires anonymous sexual assault surveys at all colleges with publicly accessible results #passCASAct bit.ly/PassCASAct | #CASAct imposea stricter penalties on schools that fail to comply with federal reporting requirements #passCASAct bit.ly/PassCASAct |
Tweet: Campus Accountability& Safety Act is essential to protect&empower students, hold universities accountable #PassCASAct bit.ly/PassCASAct


Tweet: CASA provides survivors of campus sexual assault the support they need to get the justice they deserve bit.ly/PassCASAct #passCASAct #SAAM


Survivors aren't reporting bc they don't believe they'll get justice. #passCASAct to increase accountability & reporting bit.ly/PassCASAct


Tweet: #CASAct will create uniform process for campus disciplinary action & improve coordination btwn colleges & local law enforcement. #passCASAct
Stand with survivors. Take action against campus sexual assault: #PassCASAct http://bit.ly/PASSCASA